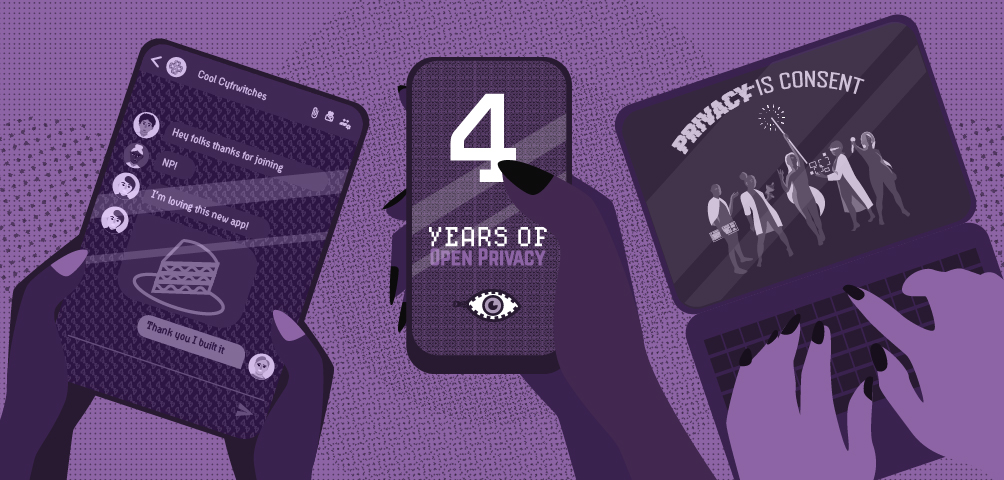 Discreet Log #24: 4 Years of Open Privacy! Cwtch 1.6! We need your Support!
11 Feb 2022
Welcome to Discreet Log! A fortnightly technical development blog to provide an in-depth look into the research, projects and tools that we work on at Open Privacy. For our twenty-fourth post we celebrate 4 years of the Open Privacy Research Society, talk about Cwtch 1.6 and kick off our 2022 Fundraising Campaign!
---
Four years ago today, on February 11th 2018, we officially incorporated the Open Privacy Research Society.
The work that we do couldn't exist without an active and amazing base of supporters, like you, who enable our mission - researching and developing privacy enhancing technologies focused on those people and communities that need them most.
To celebrate our 4th year anniversary I would like to invite you to review the amazing work that you helped support over the last few years - and once again ask for your help and support to help us continue our mission in 2022.
---
Releasing Cwtch 1.6!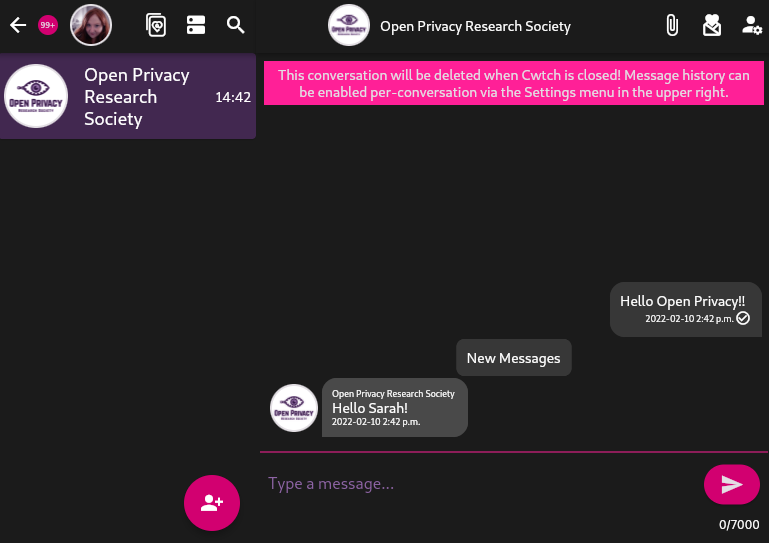 Last year I wrote that our main goal for our 4th year was concrete releases of applications, getting the research we have spent the last few years on into the hands of as many people as possible.
I'm proud to say since June last year we have been steadily releasing new versions of Cwtch, our decentralized, surveillance resistant application.
The feedback we have received from you has been amazing, and we are thrilled to see Cwtch being adopted outside of Open Privacy.
Today is no exception to the commitment to continual releases, as we are also launching the 1.6 release of Cwtch Beta which includes many long-requested features including custom profile images, advanced Tor configuration and notification settings, in addition to a number of smaller improvements and fixes.
For a full list of changes please check out the changelog.
Cwtch has come a very long way from the early prototypes in 2018, and we are very excited to continue working on it. In 2021, we launched our beta release cycle, added support for new platforms and started to deliver on exciting new functionality like metadata resistant filesharing.
---
Onwards to Year 5 - We need your help!
There is still so much we want to do. Late last year we laid out a roadmap for Cwtch up to version 1.8 which is due to be delivered in May 2022. By then we expect Cwtch to have expanded beyond instant messaging, supporting multiple "channel" types including lists and bulletin boards in addition to a new hybrid group chat protocol to replace the existing legacy metadata resistant groups.
As it currently stands Open Privacy does not have the funds, or the recurring donations, to plan beyond that horizon. If that doesn't change Cwtch, and many of our other research projects, will only receive development and support on a volunteer basis.
We believe that the world needs more projects like Cwtch that reimagine what the web can be, free of surveillance and free of censorship. And so today we are asking for your help to continue, and hopefully expand, our work.
Today we are launching our fundraising campaign for 2022.
We believe the work that we do is important, necessary and critical to realizing the dream of a world free from oppression, surveillance and censorship. Please help us continue our mission by pledging today to support us through Patreon or donate to us directly via Paypal, Bitcoin, Monero, or Zcash. You can also contact us directly to arrange a bank transfer.
---
Stickers and T-shirts!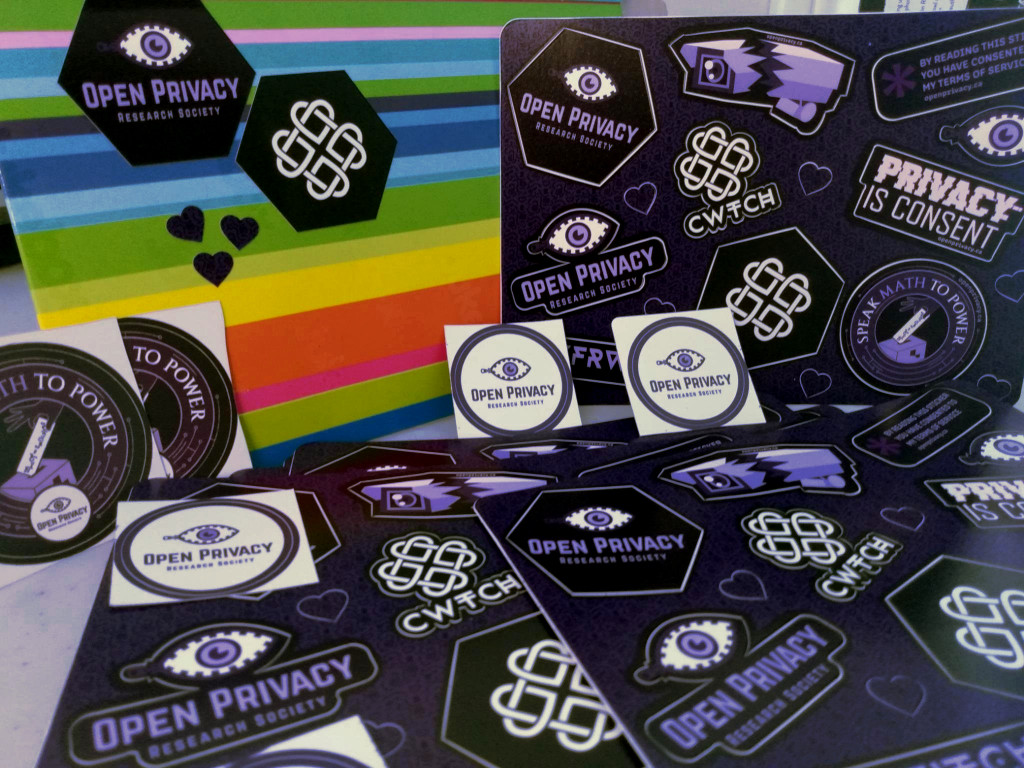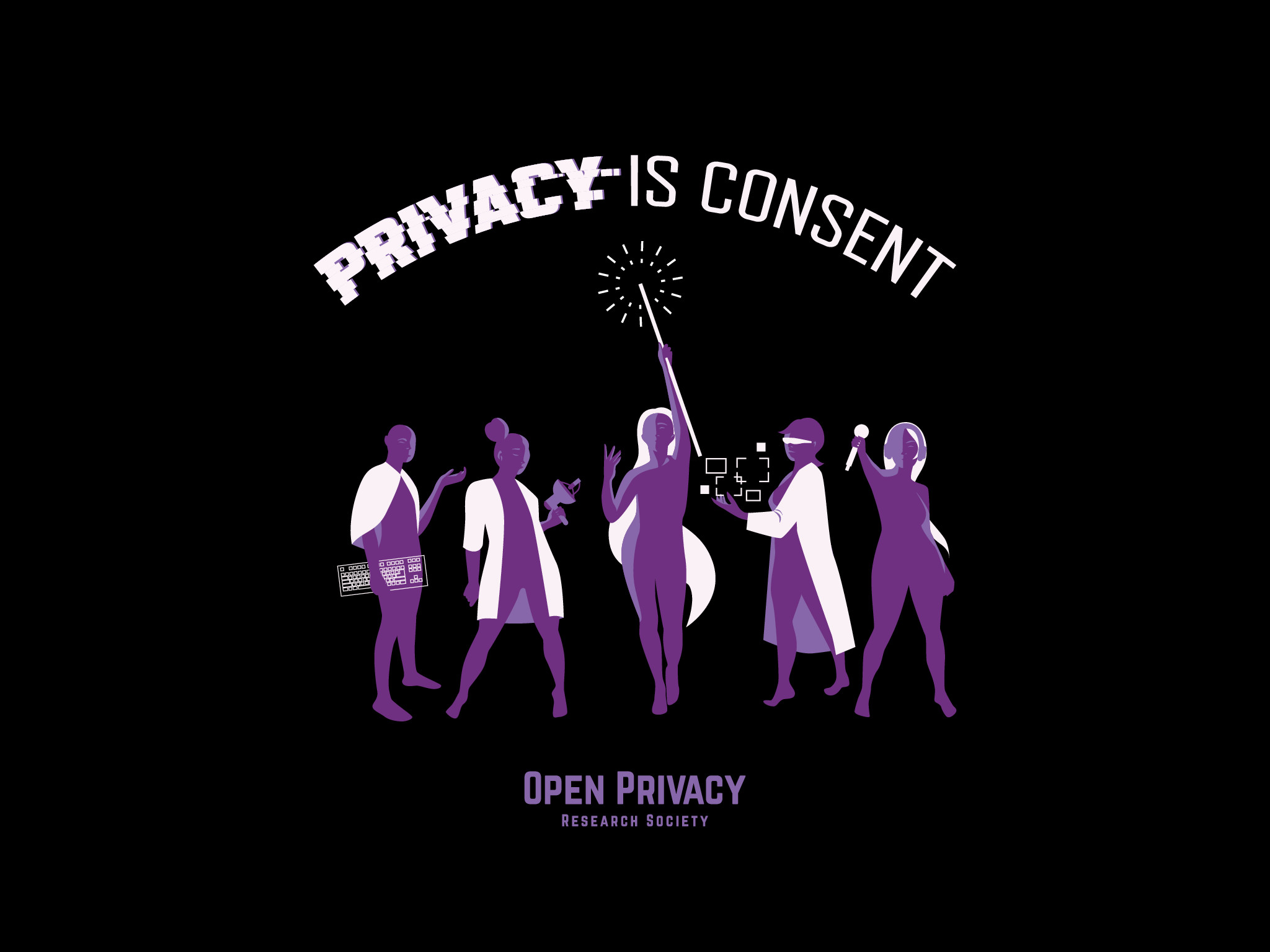 Donations of $5 or more receive stickers as a thank-you gift, and $25 or more gets you one of our new sticker sheets! To celebrate our 4th anniversary, we'll even count cumulative pledges since November 2021 to our Patreon.
Donations of $50 or more can claim a limited edition Privacy is Consent t-shirt as a thank-you gift! By popular request, these black tshirts use high quality screen-printing done locally in Vancouver. Available in both unisex and fitted sizes.
For more information about donating to Open Privacy and claiming a thank you gift please visit our Donate page.
Thank you all for your continued support.
Sarah Jamie Lewis
Executive Director, Open Privacy Research Society